To be inspired by the record of memorial gifts!
Every year, The Benjamin Foundation distributes between $500,000 and 750,000 to a range of wonderful causes, according to the wishes of the bereaved families who have entrusted remembrance monies to our management.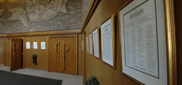 Every six months, The Benjamin Foundation releases a list of the disbursements made during the previous six months. The lists hang on the foyer walls at Benjamin's Park Memorial Chapel. They are testaments to the generosity of the community and our wonderful, life-affirming tradition, which compels us to turn loss into constructive remembrance that can help heal the world.


To see The Benjamin Foundation's most recent disbursements, click below:
October 2010
October 2009
September 2008

The full listing of all disbursements made by The Benjamin Foundation since it was established in 1983 hangs on the foyer walls of Benjamin's Park Memorial Chapel.