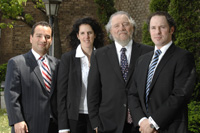 What we believe about Jewish burial
and mourning traditions
By Michael Benjamin, President, The Benjamin Group
---
TRADITION-BASED CHANGE
The push-pull of tradition and change; of debate for and against a commentary: this has always been a creative force in Jewish culture.
Certainly, in the evolution of Benjamin's Park Memorial Chapel, that creative force inspired us to be the first funeral home to build a separate room for Cohanim so they could attend services. It inspired us to take a stand against the once-common practice of private shiva. It led us to understand the need to include children in the circle of family, even at difficult and stressful times. It inspired us to be the first chapel in Toronto and one of the first in North America to set up our arrangement rooms like living rooms, so grieving families could be more comfortable and at ease.
---
JEWISH PLURALISM
As you may know, Toronto is home to one of the strongest, most observant and most diverse Jewish communities in North America. Unlike the immigration pattern in so many US cities, the Toronto community did not arrive en masse from the shtetl 100 years ago and assimilate.
In fact, there have been many waves of immigration, each bringing its own distinctive flavour, and in the distinctive multi-cultural nation that is Canada, each has found a place along the wide spectrum of Jewish observance. Toronto's Jewish population continues to grow strongly. This growth continues with the newest members of our community arriving from Morocco, Russia, South Africa, Israel, and, yes, even from Montreal.
Not only does our community reflect this wide range of cultural observance, so too does it reflect an equally wide range of religious interpretation and observance, from the Left to the Right, through Traditional, Conservative, Liberal, Reconstructionist, and all the nuances within. There are many ways for Toronto Jews to meet their religious needs.
Within this framework, we believe all Jews have the right to follow their beliefs as prescribed by their tradition. We believe that each of these different traditions, with all of their nuances, stands equal to each other on the wide spectrum of Jewish observance: the beliefs and practices of each tradition represents a legitimate interpretation of Jewish Law and no group has the authority or right to judge the validity of the interpretation of another group. We call this philosophy Jewish Pluralism.
We are committed to this concept of Jewish Pluralism and for four generations have dedicated ourselves to providing for and protecting the rights of all those in our community who turn to us in their time of need. Benjamin's is unique in Toronto for its understanding and support of this pluralistic view of the Jewish community and as such, is the only funeral chapel dedicated to meeting these varied needs with dignity, respect, and honour.
It is a sacred trust to continue the tradition of funeral service my grandfather, Henry Benjamin, started when our community was young.
---
CHILDREN AND FUNERALS
Over and over again, children are kept at home or with friends during a funeral because "They're only children - they have lots of time to learn about death."
In our view, this attitude denies their loss, and provides the least support in helping them cope with death. Being left behind and not going to a funeral with the rest of the family may undermine a child's sense of belonging and security. Furthermore, for some children, imagining what goes on at a funeral is worse than the reality.
Similarly, it is important that young children be told what will be taking place during shiva. Even though sitting shiva is not an obligation for children under thirteen, some children may want to be part of the shiva, for at least part of the time. This will allow them the opportunity to deal with their own feeling of grief and loss. Give your children options for their participation and involve them to the extent that it is comfortable for you and for them.
At a time of loss, we stress the importance of the family unit. Our Funeral Directors are here to assist parents (and children), and to helpthem understand death as a part of life. We also conduct student tours of our Chapel on a regular basis, emphasizing the responsibilities and traditions of Jewish life.
---
A PROPER SHIVA, NOT A PRIVATE SHIVA
In the modern Jewish community, it is not uncommon that families request a "Private Shiva" in the week following a death. The very term, however, "Private Shiva" is a religious contradiction. Shiva, as understood throughout centuries of Jewish life, has always been a communal activity. It is the time for family, friends and community to gather together to mourn, console the bereaved, and to remember the life of the deceased. The announcement "Private Shiva" serves to discourage and limit communal participation in the shiva, thereby cutting mourners off from a source of support and consolation.
However, it is not difficult to understand why a family might choose to request a "Private Shiva." Often what takes place in a shiva house is reminiscent of a party - loud talking, laughter and frivolity, and all the guests enjoying food and drink. Hence, families choose to avoid such a scene and grieve in quiet and among intimate family members.
This dilemma can be resolved by understanding the difference between a "Private Shiva" and a "Proper Shiva." It is usually the latter which people want - a shiva that is observed with integrity and with respect for the mourners and for the deceased. A "Proper Shiva" is a communal shiva in which the needs of the mourners are taken into consideration. A "Proper Shiva" takes place in a respectful atmosphere where time and energy are given to the act of mourning and remembering the deceased. Such a properly observed shiva can lead to reconciliation among family members, reinforcement of the family bond, and a genuine emotional healing in the face of death.
---
FUNERAL AND BURIAL RITUALS FOR INTERMARRIED COUPLES
Increasingly, in our modern world, the topic of intermarriage is one that cannot be ignored by community leaders. Today's reality is that many Jews have fallen in love with non-Jews, entering into an inter-religious marriage. Yet this fact does not necessarily imply a rejection of Jewish tradition. Benjamin's Park Memorial Chapel upholds the principles of respect for the dead (kavod ha-met) and peace in the house (shalom bayt) so it follows that we will do everything possible to help those families when a death occurs, by providing sensitive and caring service to both partners at their times of need.