The first generation... responding to the community's call
The second generation... building the framework
The third generation... enhancing service
The fourth generation... expanding service
The Benjamin Family Photo Album

Since the need for funeral services inevitably touches everyone's life, my family and I have had the opportunity to meet many members of the community -- many generations of some families.
People often come up to me at community events and tell me how, when they were grieving, they found it a comfort to deal with the human-scale of a family-run organization.
They also ask me about my family, and why we chose to become funeral directors. I often think that we didn't choose our vocation, as much as it chose us! Certainly, the story of Toronto's Jewish community, the story of my family and the story of the chapel have evolved together, each aspect shaping the others. My kids asked me to write this section of the website to provide some "historical perspective" – ah, it's great getting old.


Michael Benjamin
---
The first generation… responding to the community's call



My zaide, Henry Benjamin, came to Canada around the turn of the last century from Russia. He owned a grocery store on College Street and had a wagon that he used to deliver groceries. Wagons were rare in our community at that time, so Henry was asked by Toronto's first Chevra Kadisha to help out and use his wagon to deliver bodies for burial. At first, he did this simply because he felt a responsibility to the community. Over time, he became deeply committed to the work of the Chevra Kadisha.
When my dad was a young man, he sometimes helped his father prepare bodies for burial, and often told me that zaide had always impressed upon him that taking care of the dead was a "sacred trust." I have taught my children the same thing. In fact, our new tagline, "Through the generations…a sacred trust," makes explicit this notion that has guided our family's conduct for the better part of a century, even as we have responded to changes in the world in which we operate.
The first big change to the self-contained world of Jewish burial ritual came in 1922, when the Ontario government passed a law to regulate the provision of funerary services. From this point onward, the cultural traditions of all ethnic and religious communities had to be practiced under the auspices of a licensed funeral home.
My grandfather established H. Benjamin and Sons, on Spadina Avenue, to provide the proper legal framework for continued service by the members of his Chevra Kadisha.
---
The second generation… building the framework



My zaide Henry and my bubbie Bella, had five children, two girls and three boys. While my Uncle Dave spent a short time in the business, my father, Joe Benjamin, was the only one of his generation to make the chapel his life's work. In fact, it was zaide's deathbed wish that my father take over the chapel. So how could he say no?

Joe Benjamin was an accountant and possessed exactly the mix of skill and temperament that the chapel needed at that time. He took over the company in 1939 and put the chapel on a firm financial footing, assuring it's continued existence for the community. He was an active participant in the Jewish Funeral Directors of America.
This professional association was established in 1932 and reflected two characteristics of our evolving community. It testified both to the growing demographic and economic prominence of Jews across North America; and, to their recognition that professional funeral directors in licensed chapels now provided an essential community service.
Where my grandfather's worldview had been very local, focused within a few square blocks, my father's worldview spanned the continent. He and the growing tide of professional funeral home managers in communities across North America developed many of the standards of communication, practice, process, philosophy and values that are still characteristic of the North American Jewish funeral home.
In Joe's 40 years at the helm, the chapel was known as H. Benjamin and Sons, Park Memorial Chapel, and finally, as Benjamin's Park Memorial Chapel. His tenure ended with an ambitious dream of my mother's that he wanted me to help realize: a new facility, custom-designed to meet the highest standard of care for the Jewish community.
---
The third generation… enhancing service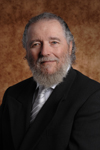 Joe Benjamin married my mom Rose (universally known as Bubbles) and together they raised my younger brother Ron and me. Ron was briefly involved in the chapel, but he didn't share my sense of vocation.
I think I always knew I would succeed my dad. We had many conversations about what I would need to know, and what the business would need to become, in order to continue to provide the highest standard of service to our community through my generation.



At that point, in the late 1960s, Toronto's Jewish community had spread up the "Bathurst spine" to the suburbs and in fact, had spread across the city. What is more, the culturally and religiously homogeneous Judaism practiced in my zaide's day had started to splinter, through immigration and new religious movements – a trend that has become more pronounced in the last 40 years.
To help me prepare for my tenure at the chapel, my father made sure I had three kinds of education: from school, from work and from people. At university, I studied psychology. Then, I studied to become a licensed funeral director in Ontario. I enhanced my training at Yeshiva University in New York and the Institute of Funeral Services in Evanston. I studied Jewish ethical issues around burial with the late Rabbi Felder.

Enough of formal learning, my father said: now it is time to see how the best Jewish funeral homes in North America operate. Through the friendships he had developed with other funeral directors, dad was able to put me to work at chapels throughout the US. His instruction was simple: learn everything you can, and bring the best ideas home. My mom had convinced dad that we should follow our community north and build a new chapel, the first in the city designed specifically for Jewish funeral rituals.
I learned many practical things on my working tour. But two lessons stand above the others. Most importantly, I learned that there is no single standard "Jewish funeral." Until I traveled, I thought everyone did things exactly the way we did in Toronto, and had done so since the time of the Temple. Not so: even within a city, practices varied; and of course, they varied among different movements. The notion of Jewish Pluralism that is so fundamental to the operation of our chapel today, in this most multicultural city in the world, germinated during my tour.
I also learned how powerfully a physical building could influence the delivery of service – both through its ambience and its practical design. When we built the new chapel in 1970s, we ensured there was a facility for Cohanim (no more shivering on the sidewalk in January!) We consulted with halachic authorities on the design and filling of a mikvah that enabled us to offer universal Taharah to a new and higher standard. The building incorporated family rooms for use before the service; arrangement rooms designed like comfortable living rooms, not offices; chapels able to expand for large funerals; and a parking lot with good traffic flow. The rigorous thoughtfulness my father insisted we apply to the design of the chapel paid off: it is still extremely functional, more than 30 years later.
I came back from my four-month tour bursting with enthusiasm and plans. And not just for the chapel: I proposed to Penny Norris and thankfully, she said yes. We were blessed three wonderful children and with 34 years of happiness before her untimely death.
The new Benjamin's Park Memorial Chapel opened in 1977 on Steeles Avenue, near Dufferin. While our kids were growing up I also held a number of volunteer jobs within the United Jewish Appeal (UJA) Federation of Toronto, including chair of social planning and co-treasurer, and I supported a number of Israeli development programs.
Now, I'm trying to slow down, as the next generation of Benjamins steps forward to serve the community.
---
The fourth generation… expanding service
My children Marc, Jordan and Barbi, and Barbi's husband Michael Levitt, all work in different capacities in Benjamin Group companies. This is the first generation of Benjamins in which all siblings work together; all the kids feel deeply this call to community service.
While it is far too soon to summarize the contribution their generation will make to the community, our new websites already reflects a new strategic direction they are pursuing: our electronic presence is even more comprehensive and interactive and we have restructured the organization.
To safeguard our tradition, other lines of business that have developed from the chapel, yet are not part of the chapel proper, are being treated as separate entities. But since everything we do is informed by the same values, all initiatives need to operate under the same umbrella organization, the Benjamin Group. Each of my children possesses singular talents that will help the organization serve in new ways in the years to come.
Marc, the eldest, joined the chapel in 1996. With his university training in philosophy, his natural thoughtfulness and, of course, his funeral director's license, Marc is well-suited to his two roles: Vice President of Operations at Benjamin's Park Memorial Chapel and Executive Director of The Benjamin Institute.


Marc is involved in all aspects of the day-to-day operation of the business and regularly meets with families, arranges and leads funerals. He is also deeply committed to education, and for years has lectured at Humber College's funeral directors program and regularly gives tours and speeches to bar and bat mitzvah students and other community groups. By establishing The Benjamin Institute as a distinct entity with Marc at the helm, we are recognizing the significant and growing role the Jewish funeral home will play in safeguarding our culture and tradition in the years ahead.

Marc's holds an executive position with the Jewish Funeral Directors of America and sits on a committee of funeral directors and the Rabbinical Council of America.

My second born son, Jordan, studied business at university before obtaining his funeral director's license. Jordie clearly inherited his papa's accounting gene (it skipped me) and makes an effective Vice President of Finance for Benjamin's Park Memorial Chapel. He brings a single-minded focus and dedication to his role, ensuring the efficient management of the organization at this time of diversification. Yet Jordan also ensures we never forget how we started, as a community service: Benjamin's continues to offer funerals at no charge to anyone in financial need.
My daughter, Barbi Benjamin Levitt, is Vice President of Human Resources for The Benjamin Group. With a degree in sociology and a diploma in human resources, Barbi arrived at the chapel with the right skills, at the right time. Our wonderful staff had grown to a size where the "off the cuff" approach to human resources was no longer practical, or fair. Barbi established employee policies, launched several initiatives to promote standards of excellence in health and safety and to increase staff wellbeing.


Barbi's involvement in the community embraces the PTA at USDS Bathurst Campus and the executive of Hadassah-Wizo, Toronto. She also chaired the final Hadassah–WIZO Bazaar in the fall of 2008.

Barbi's husband, Michael Levitt, is President of Benjamin's Landmark Monuments. Under his watch, the business has grown beyond the Jewish community, to become Toronto's largest independent monument dealer. Michael has a bachelor degree in political science and masters in science and technology studies. Before joining the Benjamin Group, he put his education in environmental economic policy development to work as a consultant on projects for the World Bank, the Ontario and Federal governments and as Business Development Manager for the Environmental Waste Management Corporation. Michael has the broad business perspective needed to evaluate growth opportunities for the organization. He has been charged with this responsibility in his new, additional portfolio, Vice President of Business Development for the Benjamin Group.

When not serving the community at work, Michael is National Co-Chair of UJA's Young Leadership Cabinet. He sits on the Boards of Directors of the One Family Fund and Leadership Sinai, as well as the Board of Governors of Mount Sinai Hospital and the Executive Board of the Jewish Funeral Directors of America. Michael is also active in the Liberal Party of Canada.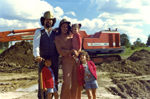 Click here
to enter the Benjamin Family Album.